This site was first posted on, on 22-Oct-2012 and material from the original
http://StolenKids-HollieGreig.blogspot.com were imported upto 03-Mar-2010.
It has been established beyond all reasonable doubt that the STORIES surrounding allegations of sexual abuse of Hollie Greig are a dishonest and malicious hoax promoted by Anne Greig, Robert Green, Stuart Usher and others amongst their perverse cult following.

I freely admit I was conned into support of the claims, based upon lies and promises of evidence that never materialised. I unreservedly apologise to anyone who may feel they have thus been defamed by my error.
For details of the background we would ask you to read the PAGE at CLICK HERE
DO MAKE USE of LINKS,
>SEARCH<
&
>Side Bars<
&
The Top Bar >PAGES<
~~~~~~~~~~#########~~~~~~~~~~
.
Robert Green who built a career on lies, libel & exploitation in recent years, for which he was inprisoned HAS DIED, age 73 …
.
~~~~~~~~~~#########~~~~~~~~~~
Posted by:
Greg Lance – Watkins
Greg_L-W
eMail:
Greg_L-W@BTconnect.com
The BLOG:
https://InfoWebSiteUK.wordpress.com
~~~~~~~~~~#########~~~~~~~~~~
.
Hi,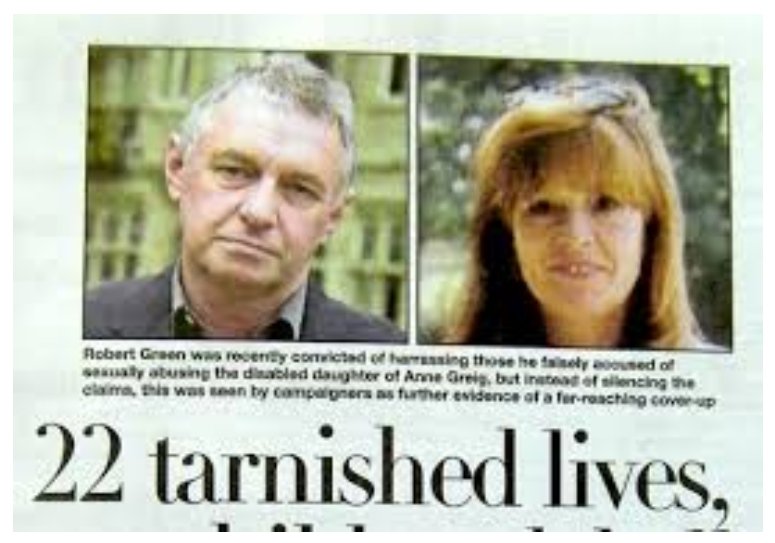 I am given to understand the somewhat infamous #Robert_Green, who built his notoriety on exploiting the fantasies & mental health of #Anne_Greig & her Downs_Syndrome daughter #Hollie_Greig has died I believe he was about 70
I am given to understand that Robert Green died on the 09-Apr-2019 at the age of 73.
Robert Green was at one time, in his earlier life, a travel agent until he was declared spectacularly bankrupt – those who knew him will be unsurprised to know he blamed others!
Later in life Robert Green achieved notoriety by exploiting the mental health & instability of Anne Greig and her unfortunate daughter Hollie Greig who was a severely handicapped victim of Downs Syndrome.
Green assisted Anne Greig to promote the allegation that her daughter had, together with 7 others been sexually abused and used as some kind of 'sex slaves' by 22 individuals Robert Green & an associate Stuart Usher published and distributed the names of both in Edinborough & Aberdeen – without one iota of provenance.
Later Green was to appear in Court, where he was found guilty of his vile crimes, and served at least a couple of prison sentences which he indubitably deserved.
I appreciate Robert Green had both a son and a daughter who will probably feel the loss of their father despite the fact that his obsession for attention must indubitably have caused them great concern.
Though I appreciate his son and daughter's loss I can well understand those whom he maligned, libelled and abused have every right to heave a sigh of relief at his demise – just as they may well do when David Icke, Brian Gerrish, Belinda McKenzie, Matt Quinn and the like inevitably follow him!
~~~~~~~~~~#########~~~~~~~~~~
Posted by: Greg Lance-Watkins
tel: 44 (0)1594 – 528 337
Calls from 'Number Withheld' phones Are Blocked
All unanswered messages are recorded.
Leave your name & a UK land line number & I will return your call.
'e'Mail Address: Greg_L-W@BTconnect.com
Skype: GregL-W
DO MAKE USE of LINKS,
>SEARCH<
&
>Side Bars<
&
The Top Bar >PAGES<
I try to make every effort to NOT infringe copyrights in any commercial way & make all corrections of fact brought to my attention by an identifiable individual
Re-TWEET my Twitterings
TWITTER: @Greg_LW
To Spread The Facts World Wide

eMail:
Greg_L-W@BTconnect.com
The BLOG:
https://InfoWebSiteUK.wordpress.com
~~~~~~~~~~#########~~~~~~~~~~